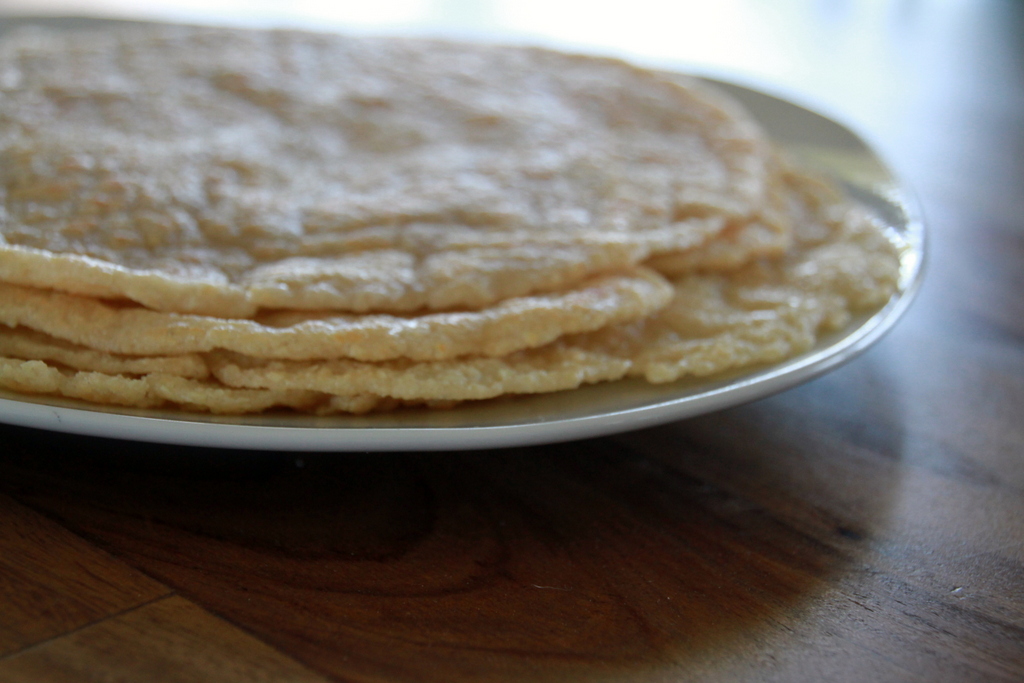 INGREDIENTS
1 cup tapioca flour
1 cup almond flour
2 cups milk
Coconut oil
METHOD
Blend everything together
Heat a pan with a very thin layer of coconut oil (tilt pan to cover base)
Pour the mixture into the pan (tilt pan to cover base)
Fry in pan till brown
Flip to brown on other side
NOTES
Can be used for a savoury wrap (e.g. scrambled eggs with bacon, rocket/baby spinach and bell peppers or mince, chicken nuggets, stir fried veggies, leftovers, etc.)
Can be used as an alternative to lasagne sheets
Sour cream or pesto can work well as a base spread
Can be frozen for later use
INGREDIENTS
2 tbsp. warm water
1 tbsp. chia seeds
½ cup honey
2 tbsp. coconut oil
2 tbsp. sunflower seed butter or nut butter (optional)
2 tsp. vanilla extract
2 tsp. cinnamon
¾ cup black pumpkin seeds
¾ cup sunflower seeds
2 tbsp. sesame seeds
½ tsp. salt
Coconut flakes
METHOD
Preheat oven to 180 degrees Celsius
Use parchment paper to line a baking sheet
In a small cup mix:
2 tbsp. warm water
1 tbsp. chia seeds
Refrigerate
Then:
Boil ½ cup honey until it browns (about 5 minutes)
Then add:
2 tbsp. coconut oil
2 tbsp. sunflower seed butter or nut butter (optional)
2 tsp. vanilla extract
2 tsp. cinnamon
Grind together:
¾ cup black pumpkin seeds
¾ cup sunflower seeds
2 tbsp. sesame seeds
½ t salt
Then add 1 cup coconut flakes, the honey mixture and the soaked chia seeds
Press out thinly on baking sheet
Bake for about 5-8 minutes, stir then bake again till brown (it will dry out more once out of the oven)
Stir till crumbly
Optional: When cool, add a cup of raisins and a cup of mixed nuts
Uses: Eat as a breakfast cereal with almond/coconut milk | Sprinkle on top of smoothies/oats
Enjoy as a snack between meals
Use as a lunchbox filler with a fresh dip. Perfect filling for gluten-free wraps!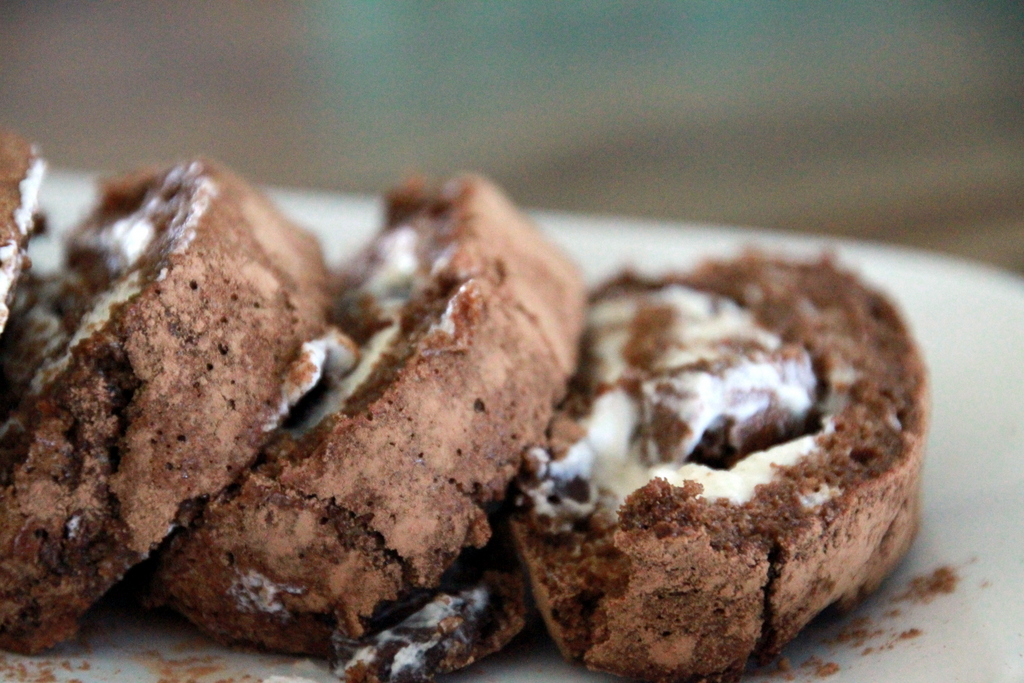 Believe it or not, this Swiss roll is so nutritious, Andalene says you can even serve it for breakfast (the kids will of course think that is a GREAT idea)!
I never really ''got'' all the ''new-year, new you'' banter. Don't get me wrong. Having goals (or resolutions, as we call them around new-year) are fine, even necessary. But there is a distinct difference between goals and habits.
I recently read a very enlightening article by a guy called Mark Manson, aptly titled: Your Goals are Overrated.
Ingredients:
• 1 cup tapioca flour • 1 teaspoon baking powder • 2 cups of cheddar or montery jack cheese • 2 eggs
Method:
• Preheat oven to 350 degrees Fahrenheit or 180 degrees Celcius • Whisk together the tapioca flour and baking powder. • Stir in cheese and eggs. • Mix together and knead the until a dough forms (can be done with kitchen aid mixer.) This is a wet more sticky dough. It will not be the same as a regular bread dough. • Divide into 8-10 pieces. • Bake for 13-15 minutes or until done, but not browned. You want these to be soft and tender. Sourced from:
https://lynnskitchenadventures.com/2010/06/brazilian-cheese-buns.html
Ingredients: 3/4 cup tapioca flour 1/2 cup almond/coconut milk 3 eggs 3 tbls melted butter/coconut oil Method: Mix together and make thin pancakes in a hot pan greased with melted coconut oil. Sprinkle with xylitol and cinnamon sugar and top with fresh cream
After dinner, save the leftovers for tomorrow's lunch boxes!
Ingredients 1 cup ripe banana, mashed 2 cups carrots, grated ½ cup maple syrup or honey ½ cup coconut oil (or butter), melted 4 eggs 2 cups almond flour OR Self-raising gluten free flour (then only add 1 teaspoon of baking soda) OR 1 cup almond flour and 1 cup gluten free flour 2 teaspoons cinnamon 2 teaspoons baking soda 1 teaspoon vanilla ½ cup coconut (optional) 1/3-1/2 cup organic raisins (optional) ¼ cup walnuts, finely chopped (optional) Optional icing 8-ounce (226grams) cream cheese, room temperature 2 cups powdered sugar ½ cup butter, room temperature 1 teaspoon vanilla Dash of cinnamon & nutmeg (optional) Drop of milk Method 1. Preheat oven to 180°C. 2. Grease and flour a bundt pan or use a muffin pan. 3. In a mixing bowl, mix together banana, maple syrup, coconut oil and eggs until well mixed. 4. Add flour, cinnamon, baking soda and vanilla. Mix well.  Add carrots and coconut. Stir in until combined. Stir in raisins and walnuts. 5. Pour into prepared pan. 6. Bake for 40-45 minutes, until toothpick inserted in center comes out clean OR into muffin pan and bake for 15-20 min 7. Allow to cool completely 8. For the icing (optional): Beat cream cheese and butter until smooth. Add the powdered sugar, vanilla and spices (if using), beat until combined. Very gradually add a drop of milk until you reach the right creamy consistency (be careful to add a very little at a time!)